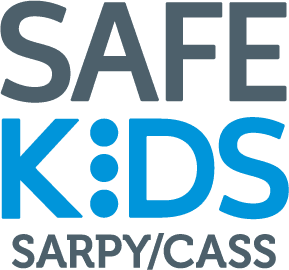 Safe Kids Sarpy/Cass is dedicated to preventing unintentional injury to our community's children. 
Around the world, one million children lose their lives as a result of a preventable injury. And millions of children are injured in ways that can affect them for a lifetime.  When a child dies, or is seriously injured, the lives of families and entire communities are changed forever. But these injuries don't have to happen. The important thing to remember about preventable injuries is that they're preventable. They often occur in predictable ways and can be completely avoided with the right education, awareness and planning.
Safe Kids Sarpy/Cass provides adult education classes in home safety and child passenger safety.  We also provide a variety of injury prevention education for ages 3-19.  Our public health educators are available to present safety information upon request.  Please contact our office for more information.
Our goal is to assist the residents of Sarpy and Cass counties in understanding and implementing strategies to prevent unintentional childhood injury.  Through the Safe Kids Sarpy/Cass Coalition, community partners and local organizations join us in that goal.  If you are interested in supporting our coalition, please send your name and contact information to [email protected].
---
Important Update: Car Seat Installation Appointments
We apologize for the inconvenience, but we are temporarily unable to provide car seat installation appointments. We hope to begin offering this service again as soon as possible. For those individuals who would like assistance prior to January 30, 2023, please contact one of our community partners listed below to request more information on how to schedule a car seat installation appointment with a certified child passenger technician. Thank you so much for your patience and understanding.
Sarpy County Sheriff's Office, Papillion – (402) 593-2288
Children's Hospital & Medical Center, Omaha – (402) 955-8090
Nurture Omaha (service for fee) will come to you – TEXT (402) 915-1559
Complete Children's Health - Lincoln (service for fee) – (402) 465-5600
Safe Kids Lincoln-Lancaster County Health Department – (402) 441-8045
You can call the manufacturer of your car seat as well.  Most manufacturers have child passenger safety technicians on staff to help parents and caregivers with car seat questions.  Many of them offer video call installation appointments too. 
Visit www.safekidsnebraska.org to see a statewide calendar of car seat check events and lots of other helpful resources for child passenger safety.
---